I am Marion, a hot wife who loves gangbangs and cumshots. When I feel naughty I'm going out to have fun with strangers and random dicks and generally groups of guys at the local cruising areas, adult theaters, gloryholes and private sex parties.

I'm doing new escapades all the time, so I'll update my page with brand new stuff frequently.

I'm also hosting gangbangs and fuck fests for my fans and followers from time to time, where YOU can be the next in line to fuck me! Hubby will film these parties too, so you shouldn't have a problem with it (we recommend to put on a mask). I'm located in Europe and that's where I'm doing most of my escapades. If you have question just ask me.

click on pic to watch trailer
Full movie online since: April 11, 2022
Last summer I had a great fuck fest in a public park, with me being the center of attraction for several random dicks. This is the second episode of the escapade, where I continue to open my legs for everyone who don't mind being recorded. This time I decided to visit the dogging spot in the forest park to get me as much cock and cum as possible. There are some park benches at the most lonely spot in the park and this is usually the place where doggers meet to have fun, especially in the evening hours. I arrived at 6 p.m. and saw a few guys promenading in the park, walking from bench to bench along the alleys.
Time for one of my famous signs! I sat down on one of the benches and held up a sign: CUM SLUT! PLEASE USE ME! I know from many earlier escapades that signs like these break the ice immediately, nine times out of ten. It worked again! Like bees around the honeypot the guys surrounded the bench quickly, some of them at some distance and staring at me. Hubby placed two cams beside the bench. A few quick words (My husband is filming! We have hoods!) and then the first dogger nailed and creampied me, followed by two other guys. Two more guys only wanted me to fuck with rubbers, but this time I wanted them all to shoot their loads in my puss and so they left the place quickly.
Later I also went into the nearby bushes just because I had to pee, but some doggers followed me and so I sucked them off in the bushes and got two loads in my mouth while I was on my knees. In this second episode you can see me being back at the bench and getting fucked five more times. Just amazing to see the guys standing in line beside the bench and waiting for their turn. All in all I got 17 cumshots that day. 13 in my puss and 4 in my mouth. Awesome!
click on pic to watch trailer
Full movie online since: April 11, 2022
Brand new escapade at the Adult Theater, filmed on February 19, 2022. This was the first time in a long time that I drove to one of the local Adult Theaters without being escorted by my husband. Hubby stayed home because of a bad cold (no Corona... don't worry). Actually we wanted to defer the visit to another day, but I was so hot for cock and cum that I decided to go through with the plan. Hubby agreed, actually he likes to let me do things on my own and enjoy the video afterwards, we just hadn't done that in a while. Of course it's not without risk to visit a porn theater as a single woman, without being escorted by a watchdog. My plan was to enter the theater and to go to one of the gloryhole boothes as fast as possible. There I could lock the door of the booth behind me and then I would be in a more or less safe place, but still available for all cocks because of the hole in the wall... 😉
I paid the entrance fee, went straight to the next booth, which was taken, went to the next booth, which was free. The movie starts with me filming myself in front of that booth. You can see me entering the booth, where I placed two cams beside me, one on the ground and the other one in line of my face. Now I was ready to serve each and any cock who wanted to be served. You can see me holding a sign with the date on it in the first scenes of the movie and just as I held that sign a first cock appeared at the hole. I sucked him off immediately and he shot his load in my mouth quickly. The second cock was a fast cummer, before I could serve him orally he came on my tits. The third one shot his load in my mouth again, while the fourth cock fucked me bare and came deep in my puss. To put it in a nutshell: In this first episode you can see me serving the first seven cocks. Three of them are fucking me.
I'm getting seven loads, two in my puss, four in my mouth, one on my tits. This escapade turned out to be a true gloryhole marathon, so there's a second episode coming soon.
click on pic to watch trailer
Full movie online since: April 11, 2022
Once again I placed a notice at my pages, where I was looking for some guys who wanted to gangbang me at the apartment the next Saturday. Only four days from placing the ads to the party, but that was enough for over 10 guys to put their hands in the air and announce to the bang. Party started at 3 pm and finally 9 guys arrived to have a good time with me. I welcomed the first few guys with one of my famous signs (Fuck Me!) and wearing one of my slutty ready-to-get-fucked outfits.
So, no need for a warm-up time, I had the first cock in my mouth only a few seconds after the first guys had arrived. A little later I found myself lying on my back and some guys taking turn on me. During the next almost three hours I got fucked and creamed again and again. Some used me bare, some with rubbers, some unloaded in my mouth or face, some in my puss. I got plenty of loads. Now here comes the first movie filmed that day. The movie displays the first third of the party. You will see me getting used by 5 of the 9 guys and getting some huge loads. Next episode is coming soon.
click on pic to watch trailer
Full movie online since: April 11, 2022
In this movie you can see me being the gangbang and cum slut for 10 guys in a cheap motel. You know, one of these places where the rooms are cheap and nobody cares about what happens inside. This is a motel at a highway rest stop, so it's a good place to invite some guys for a bang. People come and go at this motel and nobody notes that there are so many guys walking into that one room at the end of the floor 😉 To fill up the room with cocks I had to place an ad at my party scheduler in the member area. Seven guys wrote me they wanted to join the party, but I wanted some more and so I placed some more ads at other dating sites, where I offered myself to get fucked... for free of course.
At the end I had over 15 announcements and finally 10 guys arrived at the motel to have a good time with me. The room was way too small for a horde of 10 cocks, but on the other hand it makes the things much easier. All cocks are within reach all the time and so the party quickly turned out to be a great fucking fest, with all of these bastards banging me in quick succession... just like I want it. The movie begins with me welcoming the first guys and starting to serve these early birds. Step by step more guys arrive until the bed is surrounded by 10 naked men, all with their cocks in their hands and waiting for their turn. Now the fuck fest begins, where I'm getting mounted by all of them and getting plenty of loads, most of them in my mouth and on my face.
Being a good cum dump for everybody is a must. At the end of the party I really felt shattered, these guys really had banged me into coma. Who's next?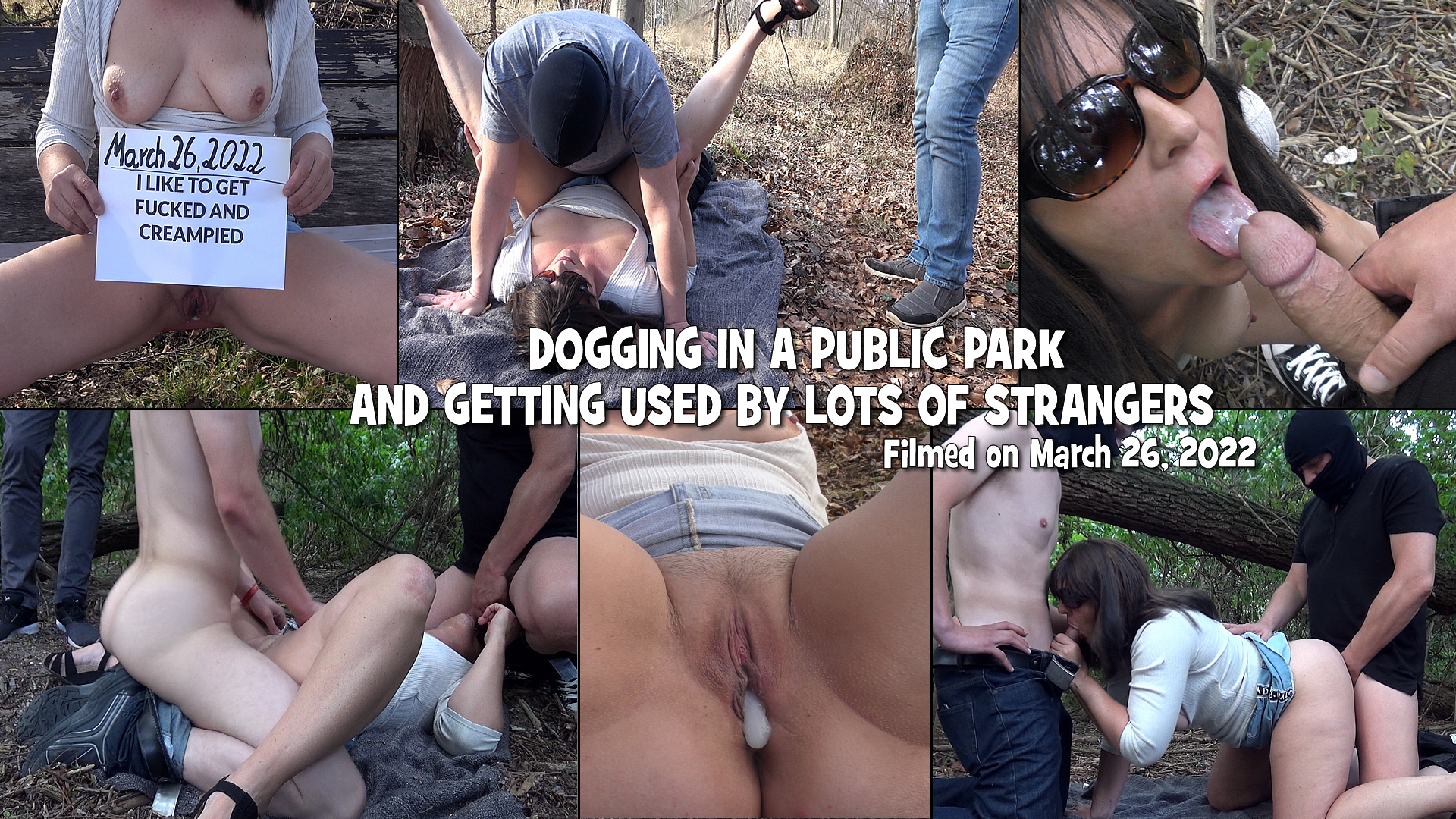 click on pic to watch trailer
Full movie online since: April 08, 2022
Another brand new escapade, filmed on March 26, 2022. This one was the second outdoor escapade within 10 days, so you see I don't lose time to get me as much cocks and loads as possible this year. You can watch me dogging in a public park and getting used by random cocks, but this time I tried out a place I had never been before. I read about this spot in the net where a few people said that this is a good meeting place for swingers and doggers. There are several park benches where a girl like me can attract attention and behind the benches there is a path leading in the bushes. Seemed to be a perfect place for me and so I tried it out a few days ago.
The weather was good enough for an outdoor escapade, so I was in good hope to find some guys to have fun with. As I arrived I saw that this is a huge park, with plenty of pathes, benches and - most important - wooded areas. I sat down at one of the benches. In the first few minutes of the movie you can watch me holding a printed sign with the words 'I like to get fucked and creampied' on it, plus the handwritten date. Yes, I know, that's really explicit, but I know that this is always the best way to attract some attention. Now all the guys passing by immediately knew that the slut on the bench is looking for some fun, obviously. Only a few minutes later I saw a guy coming closer, followed by another one. I quickly went into the bushes, still with the sign in my hands, now followed by a group of five or six horny studs and after my husband had given out masks to all of them they all used me in the bushes.
Some barebacked me, some not, I got some loads in my mouth and some in my puss. Seven guys and eleven loads all in all. Not bad. 😄
click on pic to watch trailer
Full movie online since: April 07, 2022
A brand new escapade, filmed on March 17, 2022. I drove to the forest park dogging spot again. There's a small rest area with a few parking facilities at the end of the road, which is the main meeting point for doggers. There you can have fun inside or outside the car, or in case there are unwanted people like promenaders or families, you can choose the second option and cruise the nearby woods to have some fun. All in all it's another good place for casual outdoor sex. As I arrived I saw a few cars at the rest area, with two guys standing at the open doors of their cars and some other walking around. My husband quickly went out of the car and placed a tripod cam on the ground and I switched on the other cam inside the car. The movie starts at this point and you can see two guys appearing at the car door immediately.
Actually no need to attract attention by holding my PLEASE FUCK ME sign, but I do it anyway... I wanted you to read the date on it. You will see that this escapade was a no-brainer. I had to do nothing except to offer my willing puss und mouth and guy by guy I got fucked and creamed on the passenger seat for over two hours. I got cock after cock and load after load. 8 guys and 15 loads all in all. Awesome! A few more doggers stood at the roadside, watching and jerking, but for some reason they didn't want to use me.
Meanwhile hubby stood a few steps away most of the time to watch out for unwanted people, since this a very exposed place, where you can get caught in the act easily. That's the reason, why most of the scenes were filmed with static cams. Hubby only came nearer to film a few creampie close-ups, then he quickly returned to his observation point. 😉
click on pic to watch trailer
Full movie online since: April 07, 2022
Another movie with me in blonde... 😉
This one was filmed during one of the local corona lockdowns, where all the kinky places were closed (e.g. adult theaters) and where I couldn't do big escapades with lots of men because many guys stayed home. At that time I just played at home or accepted invitations by my fans, followers or regulars to use me at their houses. I aways had the fantasy where I saw myself at the office, under the desk and sucking off all male colleagues, one after another, again and again, all day long.
Well, obviously I can't do this in reality, I just can't walk into an office building and tell everybody that I'm cum slut and will suck off everybody under the desk over there. At least not when I don't want to get arrested by the police. But as one of my followers invited me to his private office I saw the chance to make this fantasy come true. Finally three guys joined the party, the follower and two more fans I had contacted via email. I'd like to have more cocks - many more - but at that time it was corona time, baby, no chance. But these three guys were on target, that's for sure. I sucked them all off, one after another,with them sitting on the office chair and me under the desk.
They all shot their loads in my mouth and then - attention please, here comes the big twist of the movie - I saved all loads in a glass. At end of the movie you can see me playing with these loads for several minutes. Yummy!
click on pic to watch trailer
Full movie online since: April 07, 2022
I had a lot of fun during a one-week vacation a few months ago, with me partying and being a cum slut in the parking lot, at the apartment two days later and finally at a cruising area at the end of the vacation. This movie displays the cruising area escapade. As usual I spent that week at the sea and as I had booked the apartment I thought I could do some kinky escapades on the beaches, but once arrived at the resort I realised that it's too cold to play on beaches and so I changed my plans and checked out some dogging spots nearby. Among others I had read about this place, a huge cruising area at and around a lake, not far away from the resort and close to a highway.
Once arrived I saw a huge areas, with a bigger alley leading around a lake, many small pathes leading from that alley into the bushes and several hidden places which seem to be perfect to have fun at. The place wasn't overcrowded, but I saw some single guys walking from here to there and staring at me and my black stockings once they had spotted me. Maybe doggers looking for fun, maybe not... but I was here to find it out. Hubby began to film me cruising at the alley and in the bushes of the lake. The movie starts with these scenes. I placed myself at a small clearing at the lake where I started to fuck my puss with my fingers. Hubby continued to film me. Only a few minutes later we had two spectators, standing a few steps away in the bushes and watching us. I encouraged them to come closer and from that moment on it was a no-brainer. During the next two hours I had fun with several strangers, with all of them multiply fucking me. Some fucked me bare, some not.
I got loads in my puss, on my tits, in my mouth. The gangbang started in the bushes at the lake, later it continued in a more open area, where the gang grew up to five guys who were using me at once. Who's next?
click on pic to watch trailer
Full movie online since: April 07, 2022
I never expected to get used by such a large group of cocks. You know, it's still corona time and during the past 18 months I had to lower my standards, simply because there were not so many guys cruising the local dogging spots or porn theaters than before. But things seem to get better now. As I cruised the theater I saw there were far more guys sitting at the cinema rooms or cruising the dark floors than I had expected. Most of them wore corona masks and stared at me, as I cruised the theater. As usual I saw no other woman or couple, I was alone with all these cocks, just like I like it. I placed myself at the biggest cinema room. This is a perfect place to get used by everybody.
It's a large room with a big screen at the wall, a big bed in front of it and some couches surrounding the bed. Quickly I started to show off in front of the screen and on the bed, with me holding a self-written sign (Gangbang!) to show everybody my intentions. The movie starts with this scene. Quickly I saw more than 10 guys standing at the entrance area of the cinema room, staring at me but still hesitating. I didn't want to lose time and so I invited all the bystanders to fuck me immediately. Hubby told them he would like to film the gangbang and gave out masks to each guy who accepted the invitation. Then I found myself on the bed, being surrounded by lots of cocks. And these guys were on fire! They groped me, fucked me, creamed me for over two hours.
After all these months of being lockdowned they were just hungry I guess, they just needed to use a cum slut like me mindlessly, like I needed it to get used. A win-win situation. Now here comes the first movie of this night, displaying the first half of the bang, with over 10 guys fucking me, some bare, some not, and me getting a half-dozen loads in my puss. There are some great creampie scenes in this movie. 😉
click on pic to watch trailer
Full movie online since: April 19, 2022
From time to time I like to change my look and style and then you can watch me getting used with me as the blonde slutwife. It's a brand new movie, filmed on March 04, 2022, with nine guys fucking me again and again while my husband is on a business trip. To be the center of attraction for a horde of guys while hubby's away is not what I'm doing very often and I haven't done that for a while, but it was always a big turn-on for both of us to let me getting used by some guys without my husband being on my side. He loves to watch (and edit) the footage filmed at these escapades.
This time I just wanted to enjoy a hot party with a few well-hung studs and so I placed some notes at my pages. Over ten guys put their hands up in the air and finally nine guys arrived at the apartment and these bastards really were on target! I just placed two cams beside, recording the entire party and just let the good times roll. That's the reason why all scenes are filmed with static cams... with a few exceptions, as some of my lovers took a cam to film a close-up from a cumshot. You will see that my users are taking turn on my fuck holes again and again. They really used me as their cum station, I got over twenty loads.
What a great sex party! This movie displays the beginning of the party, with the first six guys fucking and creaming me. More episodes are coming soon, since this party turned out to be a true fuck marathon, with me getting laid down again and again for over four hours.
click on pic to watch trailer
Full movie online since: April 05, 2022
My brand new creampie compilation, with all scenes filmed in 2021 and early 2022. As a good tradition I'm giving you a cumshot or a creampie collection like this from time to time, where you can watch me being the cum dump for plenty of guys and getting load after load. There are 60 creampies in this newest compilation. All scenes were filmed during the past two years. So you'll see I was such a busy cum slut during the last months, even under all those Corona lockdowns and restrictions. You like to watch a slutwife getting bred by lots of guys, again and again? Well, then you will love this movie.

As a true cum dumpster I'm always ready for a hot load in my puss. There are tons of creampies in my regular updates, but in a compilation movie like this the breeding just doesn't stop and you will see me getting fucked and bred again and again. Only short scenes. I'm getting fucked by someone for a few seconds, then you see the spunk dripping from my fuckhole. Next scene, next guy, next creampie. 60 short scenes with 60 guys fucking and breeding me, combined to a new and hopefully impressive compilation.
| | |
| --- | --- |
| | |

© Copyright 1999-present day by Marion & Steve for gangbang-wife.com - All Rights Reserved.