I am Marion, a hot wife who loves gangbangs and cumshots. When I feel naughty I'm going out to have fun with strangers and random dicks and generally groups of guys at the local cruising areas, adult theaters, gloryholes and private sex parties.

I'm doing new escapades all the time, so I'll update my page with brand new stuff frequently.

I'm also hosting gangbangs and fuck fests for my fans and followers from time to time, where YOU can be the next in line to fuck me! Hubby will film these parties too, so you shouldn't have a problem with it (we recommend to put on a mask). I'm located in Europe and that's where I'm doing most of my escapades. If you have question just ask me.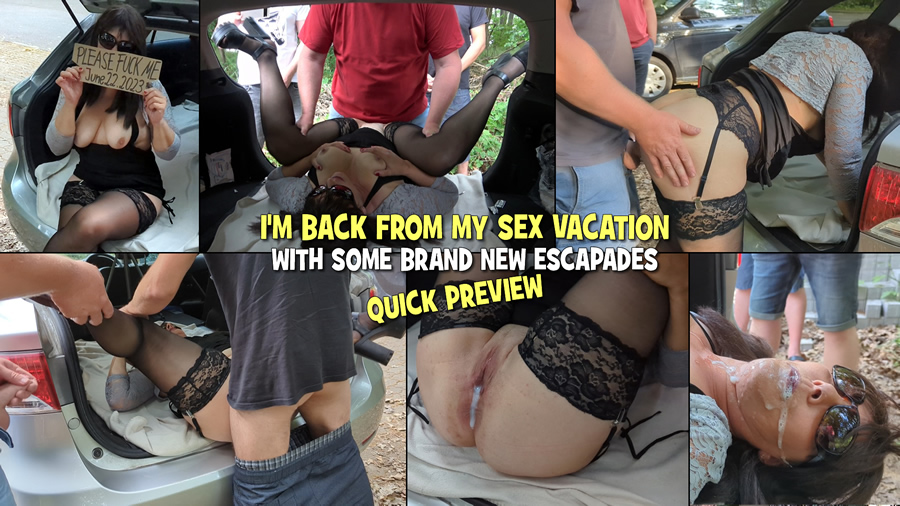 click on pic to watch trailer
Teaser online since: June 27, 2023
I'm back from my (nearly) one-week sex vacation, with some brand new escapades and a lot of kinky dogging and gangbang footage.
Just click on the pic above to watch a quick preview from one of the escapades I enjoyed during my sex vacation. You can see me getting laid down by lots of random cocks at a huge parking area. 😌

We will edit and cut the new footage and bring a first full movie online as soon as possible, but please allow us a few days to finish that work.

For now I will return to my usual update plan, with a new movie coming this Friday (not from the sex vacation, another new one filmed a few weeks ago) and a new set of photos coming tomorrow.
The first movie of the sex vacation is coming next week.

Kisses, Marion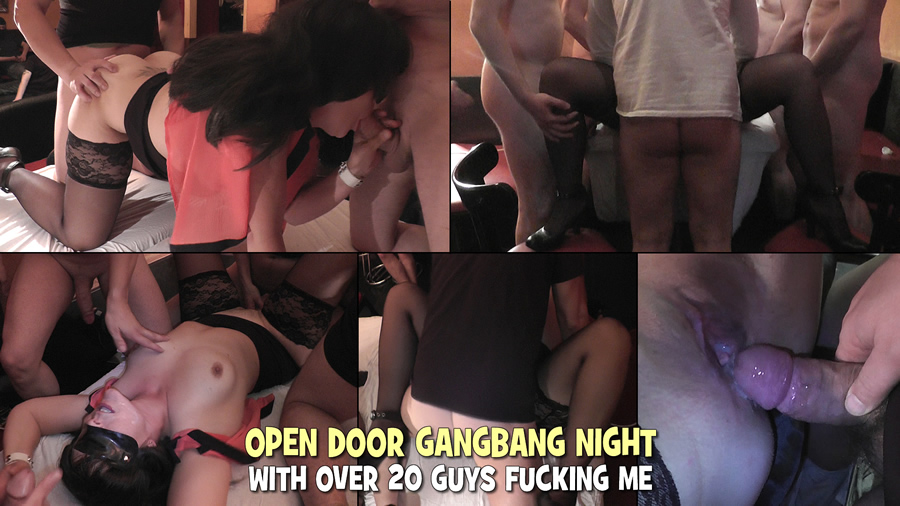 click on pic to watch trailer
Full movie online since: June 21, 2023
This movie displays another open door gangbang exploit at my favourite swingers club. It was filmed a while ago, but the full movie is now online for the first time. I wanted to get used by as many guys as possible once again and so I chose to visit the club once again, where I had so much fun so many times before. Each last wednesday of every month this club offers a so-called 'Gangbang Night', which is intended for ladies like me, girls who just want to enjoy more than one cock... plenty of cocks actually. 😉
As usual there was no need to post the party at my social media or at the party scheduler. There are always more than enough cocks visiting the gangbang night. The special twist at these open door parties was, that the door to the club was really OPEN... in the true sense of the word. No entrance fee. Many guys just entered the club for a few minutes, dropped their pants, fucked a lady, unloaded quickly and left.
As I entered the club I saw that the main room was full of guys, twenty, maybe more. No other girl, only me being the center of attraction! I immediately got on my knees with my mouth wide open, quickly surrounded by plenty of cocks. The movie starts with this scene. I'm sucking off a few cocks, but quickly the first one fucks me doggy. It's the starting signal for a two-hour gangbang, where I got nearly used by the entire audience. Over 20 guys this night! As usual at this club, most of the guys fuck me with rubbers, but some also bareback me and I got a few huge loads in my puss. So, here is the full movie of this gangbang night, it contains all scenes my husband has filmed that night. He didn't record the entire party and has missed a few cocks and loads, but nevertheless you will see me getting fucked by PLENTY of men. 😍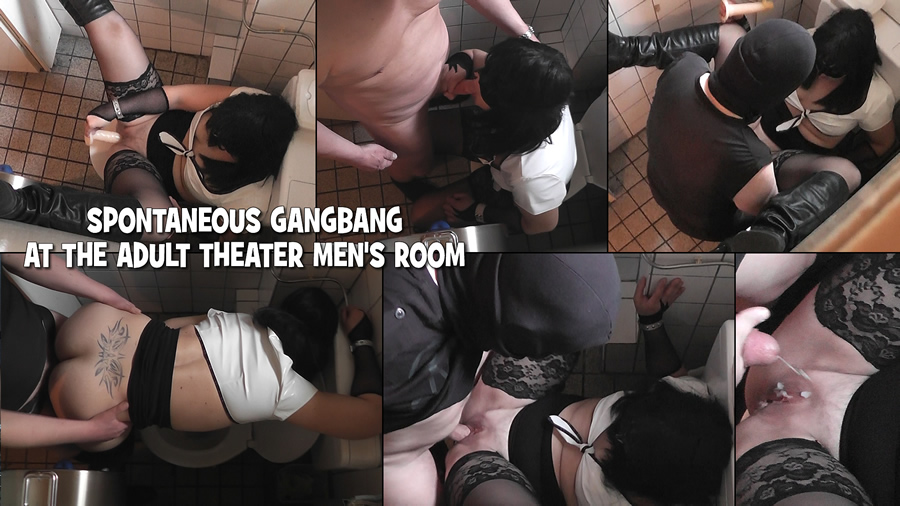 click on pic to watch trailer
Full movie online since: June 19, 2023
Again I visited one of the local Adult Theaters. This theater has a large cruising area with several sex cinemas and gloryholes stalls. There are also two restrooms, one for the boys, one for the ladies. You know I love trying out new things, so I entered the men's room, left the door of the toilet cabin open and began to play with myself. My husband entered the neighbour cabin and filmed me doing the dirty things by holding the cam above the wall. Now all theater patrons passing by could see me sitting on the toilet lid, playing with my cunt. Of course it was just a matter of minutes until the first guy had the courage to come a little closer. He dropped his pants and I sucked him off, while still sitting on the toilet lid.

I noticed some more guys standing at the door of the men's room and jerking their dicks, while I sucked that first dick. What now followed was a spontaneous gangbang at the men's room, with four guys fucking and breeding me at that toilet cabin, while hubby filmed the smut from up above, by holding the cam over the wall of his cabin. Later I also got laid down by more guys at another area of the theater, but that's another story 😉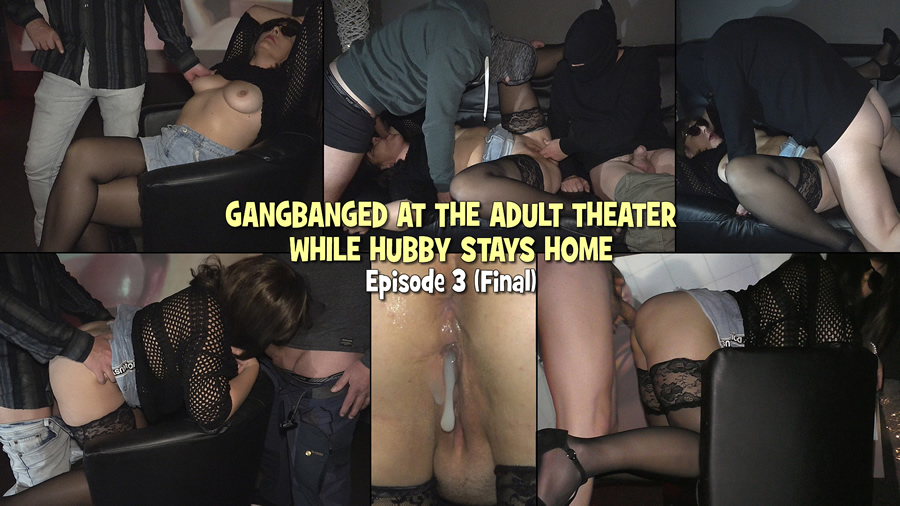 click on pic to watch trailer
Full movie online since: June 16, 2023
Third and final episode of the Adult Theater gangbang filmed by my static cam a few months ago, where I visited a local porn cinema on my own and got gangbanged by lots of random dicks while hubby stayed home. During the past two years I have enjoyed quite a few escapades at the local porn theaters and outdoor dogging spots while I was on my own, without being escorted by my husband. The first few times I did that, because I was hot and hubby was indisposed. But then we realised that we both liked it when I'm doing my things on my own. What was unimaginable in the past, becomes now a more and more tempting and juicy part of our swinging life. It just spices up the escapades. And hubby loves to watch and edit the movies afterwards. Only then he sees what I have done, how many cocks I have enjoyed, how many loads I have taken. It's always an awesome experience for both of us. 😌
This third movie begins where the second one ended, with me still being the center of attraction for the entire audience at the main cinema of the theater, a huge room with a huge screen. But when there is no husband escorting and filming me I just can't trip to that cinema, lift my skirt and let the patrons do the rest. No, when I'm alone I have to prepare a few things before the fun starts. Getting out the cam, put it on a tripod, placing a few masks within reach... stuff like that. But once I was ready I immediately found myself being surrounded by curious guys who were willing to use me. In the first two episodes you could see me having fun with the first few cocks, now the orgy continues with the next guys fucking me and with most of them breeding me. Some fucked me bare and some not, I got lots of loads in my mouth and puss. Not all of them are on cam, especially the creampies. It's just not so easy to get all those loads on cam when there is no hubby to hold the cam. That was an exciting day at the theater! 😍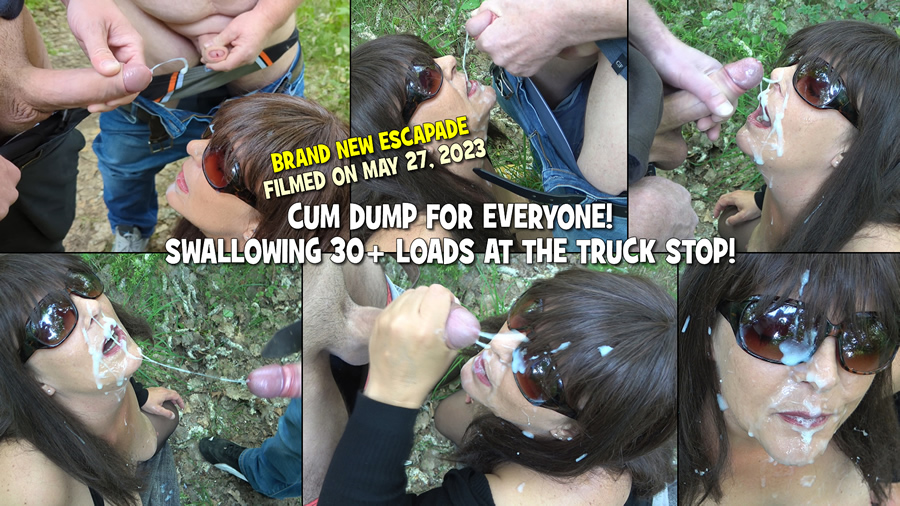 click on pic to watch trailer
Full movie online since: June 09, 2023
A brand new escapade filmed on May 27, 2023, where you can watch me returning to the truck stop at the highway, serving plenty of cocks and being a true cum dump in the nearby bushes. This place is fantastic: A large truck stop at the highway with a huge wooded area surrounding it, with the whole area converted by doggers into a meeting place for horny people. It's the most busiest cruising area I know... and I know a lot! There are always lots of doggers cruising that place, people who are looking for quick casual sex before they are continuing their journey on the highway. The perfect place for a cum slut like me. It is fairly far from my hometown, so I'm not visiting it very often, but on May 27 I finally drove to the truck stop again.
I love to go gown on my knees and get load after load, preferably with a never ending line of cocks. This day I intended to do it exactly like this. As I said above, it's the perfect place for a bukkake. Lots of guys who can drop in and drop out. No words, no complaints, just cum on me and leave. As I arrived I only had to walk from the truck stop into the bushes. Hubby followed me and started to film me (the movie starts with these scenes). Actually I intended to cruise for a while now and attract some attention, but I saw that there was no need to do so. Guys were walking up and down the path inside the bushes, so I just went down on my knees on the path with bare tits and a self-written sign 'Cum Dump - Please Use Me'. To cut a long story short: During the next hour I sucked and jerked off plenty of cocks to completion. One after another, with up to 3 cocks at once. I got plenty of loads. In my mouth, on my face, on my tits. I really lost count, but after looking through the movie footage I can say I got over 30 loads that day. At the end I was totally drenched in cum. Awesome! This is the first of two movies filmed that day, displaying the first half of the escapade. The second movie is coming soon. 😉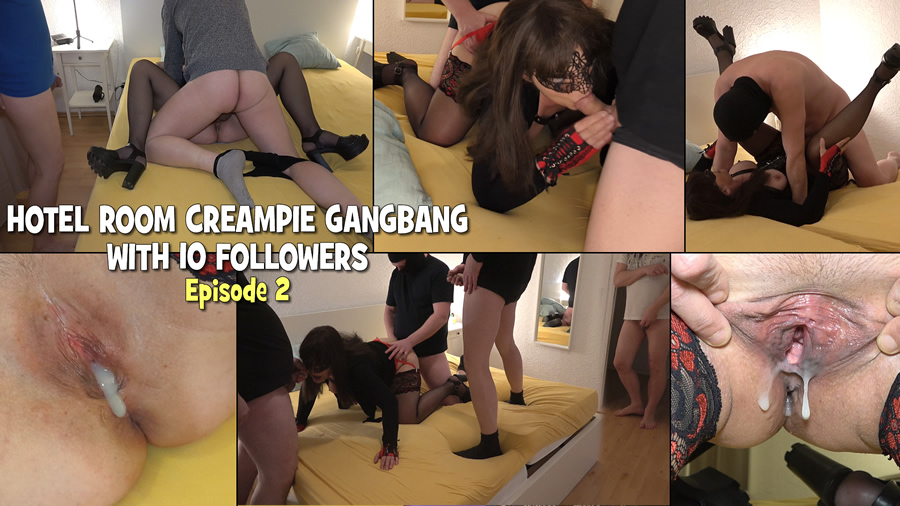 click on pic to watch trailer
Full movie online since: June 02, 2023
Second movie filmed at the hotel room in March 2023, where I offered my holes to some of my social media followers. I had a few days off and we booked a hotel room in my favourite beach resort. It was much too cold to go swimming, but of course that wasn't my primary aim, I had some other plans. As you might know, I have set up a new sex challenge recently, where I want to enjoy at least 25 gangbangs in 2023. A true gangbang tour this year, so to speak. And so I wanted to enjoy cocks at the hotel room, to give the tour a good start. I placed notes at my social media, where I was looking for cocks to gangbang me. The more the merrier. At the end I sent out nearly 20 invitations and finally 10 guys arrived to be the next in line to fuck me. Not all of them joined the party at the same time, some came a bit earlier, some later, but I always had fun with up to four cocks at once. 😍
This second movie starts where the first one ended... with me on the bed and opening my legs for the next bull, it's the fifth guy this day, who just comes in, fucks me, dumps a load in my puss and leaves the place quickly, without saying any word. Love to get used like that. Now it's time for some group fun again, three guys are taking turn on me simultaneously, while hubby watches. One of them dumps his load in my puss and one on my face. Then two new guys arrive, both are fucking, both are dumping two more loads in my puss. At the end of this movie you can see the first guy returning for a second ride and another creampie, while hubby still watches. I got plenty of creampies at this party, five of them are in this movie. A third and final episode is coming soon.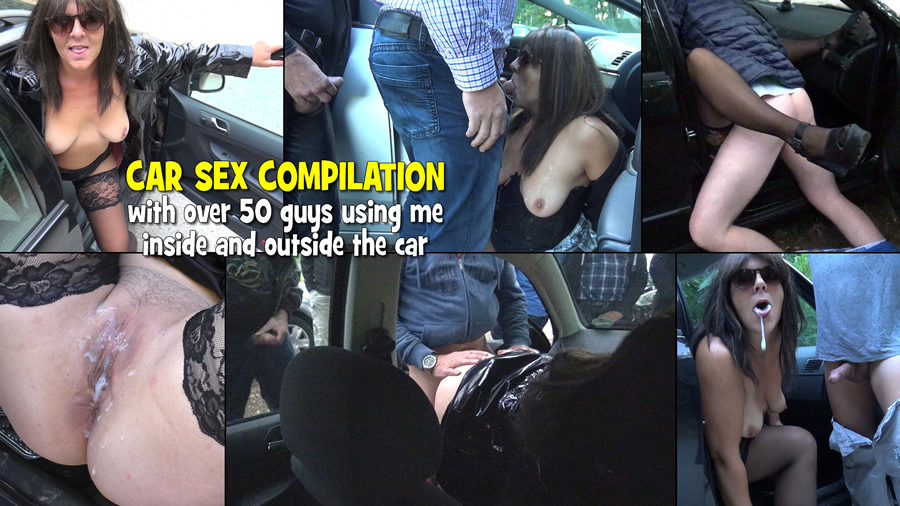 click on pic to watch trailer
Full movie online since: May 29, 2023
If you like watching a naughty cum slut getting used by plenty of random strangers at the local parking areas, you will love this movie. I always try to keep my site fresh and alive with constant updates and brand new content, but from time to time I also love to make themed compilations and this is a brand new car sex compilation movie, with lots of different car sex scenes, all filmed during the past few years.
You can see me sucking and fucking over 50 different men in this movie, most of them total strangers. You will see me getting used as a true cum slut... I just love to get their loads in my mouth or puss and totally creamed in and over. This is one of my most favourite ways of getting in touch with casual encounters. Sitting inside the car, leaving the door open, showing the dogggers that they can use me if they wish. And then... just let the things happen. I know plenty of more or less known of these dogging places within a 100-miles radius around my hometown and I check them all out frequently, so there is a ton of full car sex movies here on my site.
As usual all the escapades displayed in this movie are absolutely NOT staged. No script, no director, no actors. Just true reality porn. 😉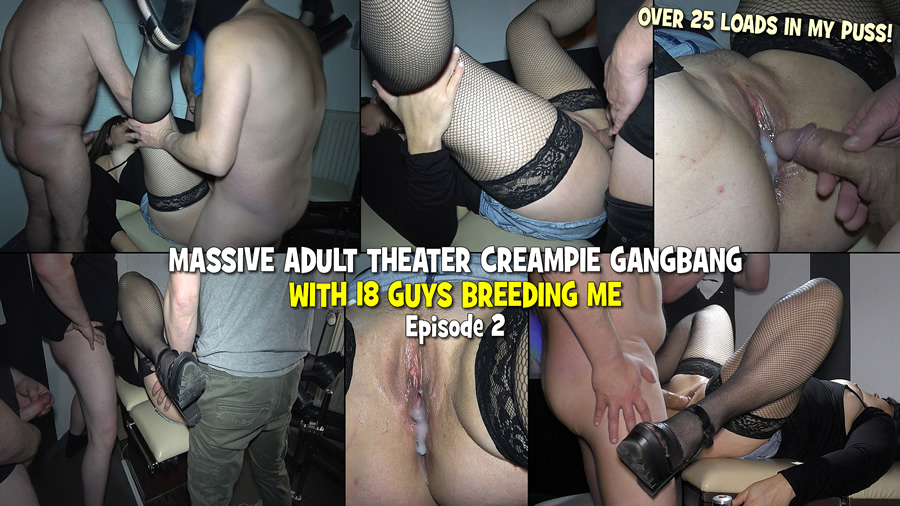 click on pic to watch trailer
Full movie online since: May 26, 2023
This is the second movie of the massive Adult Theater creampie gangbang, filmed by my husband in March 2023. The simple facts: 18 different guys fucked me for over four hours, with most of them barebacking me and some of them returning after a while to dump another load. I got over 30 loads in total, 25 of them in my puss (though there are only 21 creampies on cam). What a great creampie fuck marathon! I never got such a huge amount of loads in my puss before... a new creampie record! Also, since we have filmed the bang with two cams (one beside the gyno and one in hubby's hands) we have so much video footage that it will take a while until we have cut and edit the entire four hours bang. After giving you the first movie in March, now here comes the second episode, finally.

This time I decided to offer my holes at the huge theater at the highway. There's a large room with some kind of a gyno chair in front of the cinema screen and that's where I wanted to get laid down. Me lying on the gyno chair, the guys standing in front of it and fucking me, easy and uncomplicated. After cruising the theater for a while (you could see these cruising scenesat the beginning of the first movie) and attracting attention I went to that gyno room, where I presented a hand-written sign to a group of guys standing in the back of the room, staring at me, but still hesitating: Please dump your load in my puss! A clear message, no more open questions. In this second movie you can see me getting fucked by some more guys on a couch, before I'm returning to the gyno, where the beang continues. Seven more creampies in this movie, plus a few loads landing in my mouth or on my tits. I was such a cum dump that day!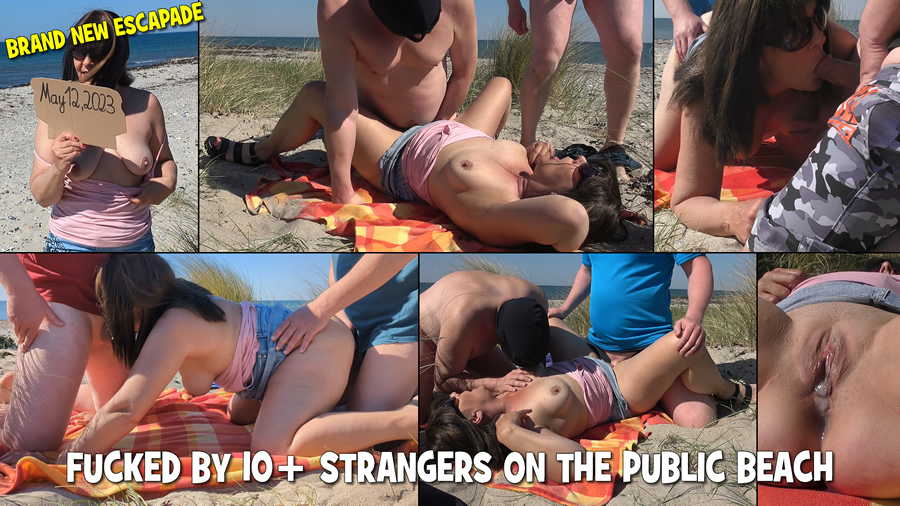 click on pic to watch trailer
Full movie online since: May 19, 2023
Now, as promised, here is the first full movie of my exciting beach gangbang filmed on May 12, where I got fucked by over 10 random cocks all day long. Last week I had a few days off and decided to spend those days on the beach, since weather forecast was good. Indeed the weather was great and felt like midsummer. No clouds in the sky as I went to my special place on the public beach, where I already had so much fun with so many cocks in the past. Since 2012 I visit this beach at least one time a year (you watch many of them here at loyalfans), so I know that this place is far away from the tourist areas and well-known as a dogging spot to meet other people for random sex in the dunes and sometimes even on the beach itself.
But of course you still have to be careful when it comes to having fun with someone, because there are still people lying in the dunes, or on the beach or walking along the water who really don't to have sex with me or anyone else.
In this case I decided to place myself on the beach, in full view of everybody, since it was a very lonesome place that day, except for a few guys lying in the dunes or walking around and curiously staring at me as I stretched the blankets. I didn't lose any time and got out one of my famous self-written signs to attract some attention, with the date on the one side and the words 'Please Fuck Me' on the other. Hubby started filming me with that sign... and a couple of minutes later I was on my knees, surrounded by three guys and three fully erected cocks to suck off.
That was the starting signal for an exciting beach fuck fest, where I stayed on the beach for over six hours and managed it to get fucked by over 10 random cocks, with up to 3 guys doing me at once.
This first movie roughly displays the first third of the bang, the first two hours, more is coming soon. Six different guys in this movie, lots of fun, lots of loads, in my mouth, in my puss. I love beach sex! 😉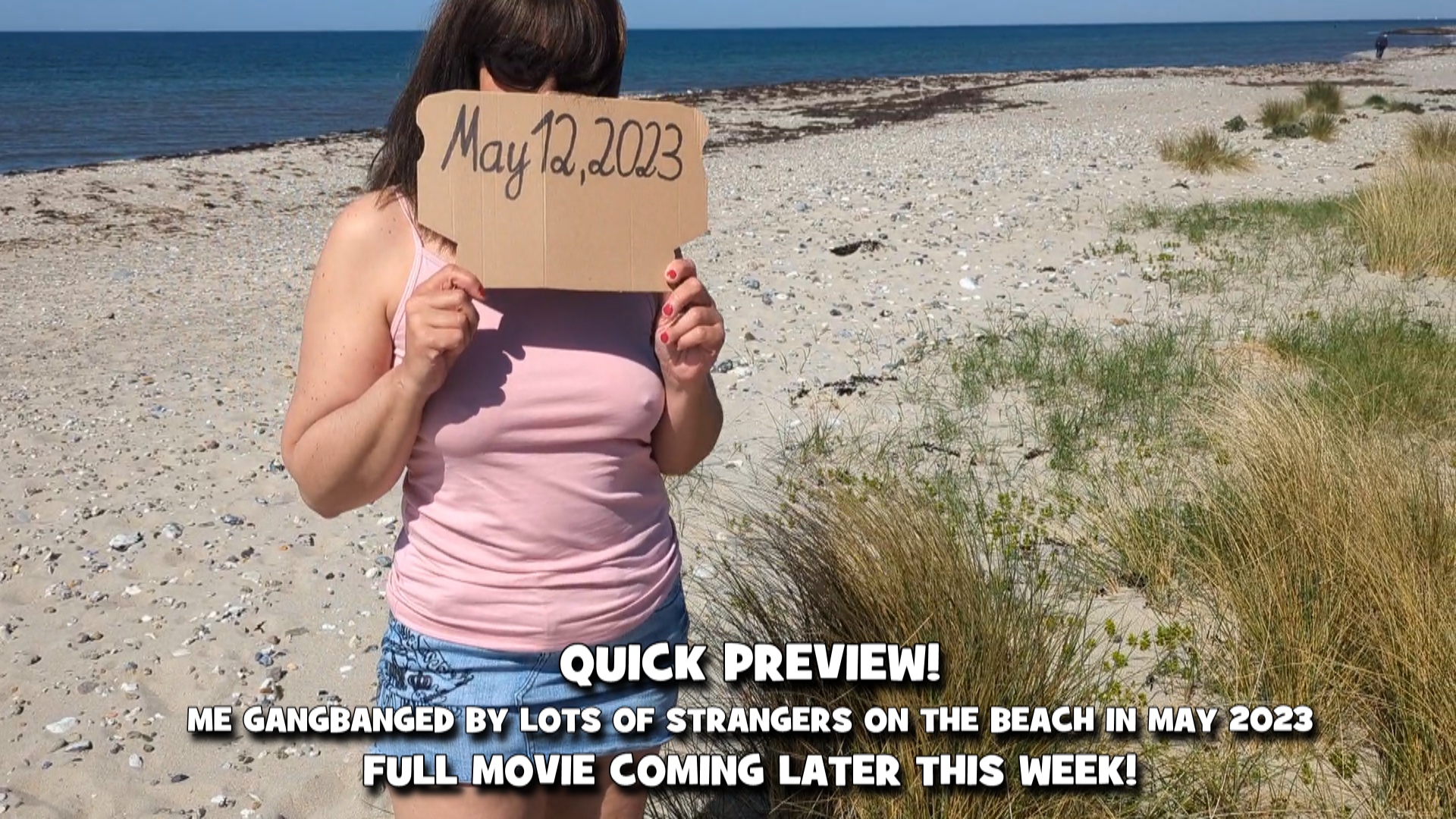 click on pic to watch video
May 15, 2023
A short and quick preview of my exciting beach gangbang filmed on May 12, 2023.
I had so much fun that day! Enough cocks and loads to satisfy my needs... which is not so easy. 😄
Please allow me a few days more to cut and edit the first full movie. I have over three hours of raw video footage, so I have a lot to edit. So, full movie and full story is coming later this week... stay tuned! 😉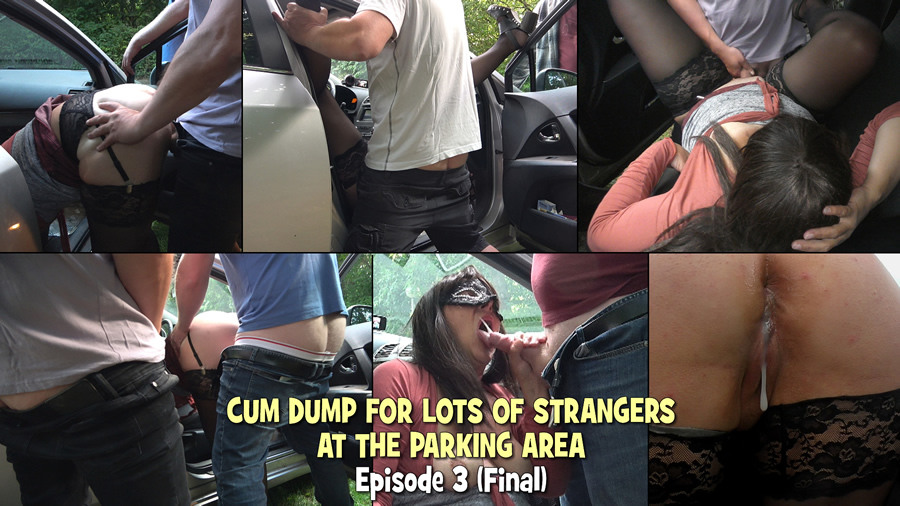 click on pic to watch trailer
Full movie online since: May 10, 2023
During the past few weeks and months I had so much brand new stuff to show you that it took a while to edit and upload the third and final movie of the amazing parking gangbang which I enjoyed last summer, during my holidays. But now here it is, finally! I wanted to check out another place I had read about, a huge parking area which seemed to turn into a dogging spot for casual sex in the evening hours. We placed our car at the far end of the parking area and saw a few other cars at some distance and a few people (males only) sitting in their cars or walking around, with some of them watching us, as hubby got out of the car and started to prepare the cams. Once I got out of the car, with my mini skirt, black stockings and fetish mask it was a no-brainer. Only a few minutes later I was surrounded by five or six cocks, with some of them standing at the car door and some at some distance and staring. I started to serve the first ones and quickly I had the first dick in my puss. He fucked me until he dumped his load into me... followed by eight guys more.
This parking area is a very exposed place and I think it was over ten times that we had to stop immediately since there was someone coming his way who surely didn't want to be a part of the show. Men and women who went to their parking cars, cyclists, new cars who parked only a few metres away. Very exciting... but on the other hand also a bit annoying. We have cut out most of these interruption scenes from the video, maybe we'll post them as an outtake video some day. Anyway, the escapade itself was another very satisfying experience. I got fucked by 8 different guys within a range of 90 minutes, with some of them using me twice. All in all I got 15 loads that evening. Most in my puss, some in my mouth, one in and a few on my ass. Now, this third movie is the final one, displaying the final cocks and loads I got that day.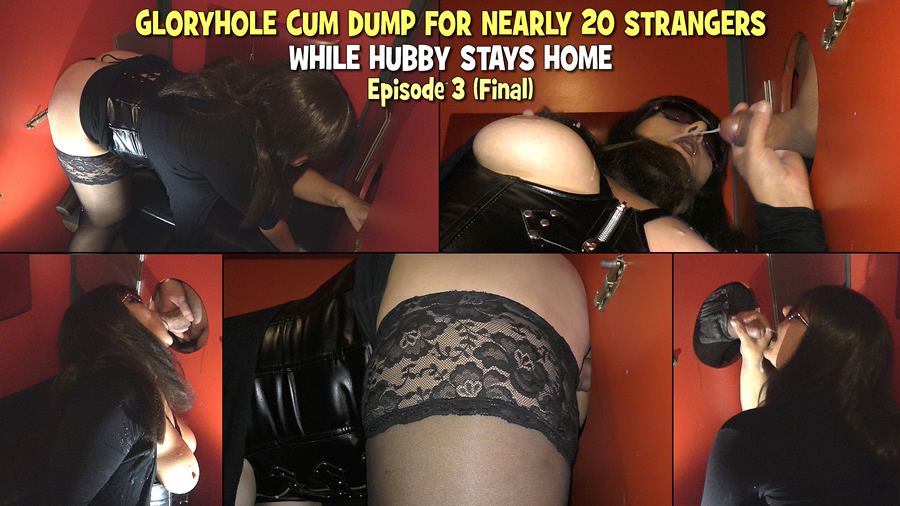 click on pic to watch trailer
Full movie online since: May 05, 2023
I finally managed it to finalise the third and final movie of the infamous gloryhole escapade where I served PLENTY of cocks at a local Adult Theater while hubby stayed home, filmed a few months ago. Once again I'm visiting one of the local adult theaters all alone, without being escorted by my husband. This time I wanted to serve cocks at one of the gloryhole stalls, where I can lock myself to be a bit more safe. I enjoyed a similar escapade a couple of months before this and now I decided to do it again. Visiting a theater, paying the entrance fee, entering one the boothes as fast as possible, locking the door, turning on the cam(s) and there you go. 😜
This time I chose to visit another theater, which benefits from more gloryhole boothes, with some of them even have two gloryholes, one at each wall. The rush hour at this theater starts at 4 o'clock in the afternoon, when many guys finish work and make a quick stop at the theater while being on their way home. For a slut like me, who wants to serve as many cocks as possible, it's the perfect time to start with the escapade. So I entered the theater at 4 pm and while cruising to the boothes I saw lots of guys crawling the dark floors and staring at me with greedy eyes. One of them came closer and wanted to me to give some money, he thought I'm a prostitute (of course prostitution isn't allowed at places like these). Of course I denied the offer and moved on to one of the gloryhole stalls. Once inside I locked the door and turned on the cams. Now I was ready to serve all cocks who wanted to be served.
And what a great gloryhole session that was! I stayed at the hole for over 3 hours and sucked and fucked plenty of cocks. I'm not sure how many cocks I have served, but after watching and editing the entire video footage I counted 18 different cocks. Not so bad I guess 😌😘

| | |
| --- | --- |
| | |

© Copyright 1999-present day by Marion & Steve for gangbang-wife.com - All Rights Reserved.